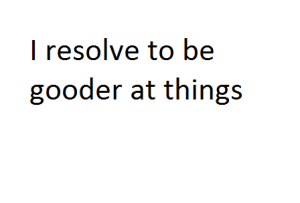 Well, 2013 just began, is two weeks in, is almost a month old. Therefore, It is about time to declare my resolutions to the world. I don't take these lightly. In fact, I am very serious about personal self-improvement. I accomplished all of my 2011 resolutions and 3 out of 5 of my 2012 resolutions. Not bad, that's passing in most public schools. Some people keep a diary, others a journal (guys that are too insecure to call it a diary), while others have even different forms of keeping their hopes, dreams, and temporary fantasies (like losing 10 pounds) in writing. Not me though. I use the good ole internet. It's just us friends here. Plus I feel like the internet is not only discreet but also very safe.
Lest you think my tardiness is any indication of my commitment to my New Year's resolution, let me explain? First off, it wasn't my fault, I have this friend, Josh Meares, who came into town and he took up all my time. So, instead of writing I had to do some other things. So, without further ado, here are my 2013 New Year's Resolutions.
Be on time more often. I thought I would start off by completing this list on time, but it didn't happen (see explanation above). There's lots of other times to practice this. I will probably start trying this resolution on Monday… or some other time.
Take responsibility for my mistakes. I'm not sure when I'll have to use this one… but I'm sure I will recognize it when the occasion presents itself.
Quit blaming other people… unless they deserve it. (Also see above, i.e. Josh Meares)
More DIY projects. I'm not very handy with a hammer, so I don't want to do any DIY home improvement projects. I'm not very crafty, cook-y, or garden-y so those are out as well. I'm quite handy at removing splinters and bandaging ouchies though. I decided to do more DIY medical procedures. I'm going to ease into it by starting small and moving into bigger, more complicated operations. Below I'll list a few of my resolved medical procedures.
Bloodletting – Since I do this every time I attempt any automotive work I thought this would be the natural place to start. It seems easy. Just figure out why you need to let go of some of your blood (according to doctors in the middle ages, everything was an indication) and run this razor-blade over the affected areas and let the "letting" do the work. Seems easy and pretty safe.
Skin tag removal – Who likes skin tags? Not this guy.
I would like to make sure that they are removed from all mankind, er well, mostly me. It seems easy and I think I could do it. I was pretty good with paste in grade school and this looks very similar to applying paste.
Hair transplant – I'm not losing my hair but I could. At the first sign of my hair loss I will start the replacement procedure. I don't have much chest hair so I will soon run out of good hair. After that I will have to use my thin, wispy arm hair. It will not be nearly as effective but at least I'll have hair.
LASIK surgery – I had LASIK a few months back and I love it. One eye is 20/15 but the other one is just a shade better than 20/20. I think I could get in there and do a little tweaking. According to the website it's just $99.95. It comes with everything you need to give yourself the gift of perfect sight. Included in the kit you get, "The Complete LASIK@Home Kit (patent pending) includes everything you need to complete the procedure.

Scal-Pal™ Hand-Operated Combination Femtosecond/Excimer Laser
Mild sedative (diazepam 4mg)
No-Blink™ brand Eye Drops
Detailed Instructions and QuickStart Guide
Protective Post-Op Sleep Mask"

That seems like it's too good to be true, but it probably is true. Best of all it only takes four easy steps. After you complete the DIY surgery you will instantly be an excellent archer, be able to fly a plane and helicopter, paint, and visit Paris. It doesn't get any better than that.
Hopefully by year's end I'll be able to dive into some more complicated surgical procedures like mole removal, neurosurgery, and liposuction.
There you have it. My 2013 Resolutions. Wish me luck!